Choose a scalloped or fringed edging for your favorite doll's poncho. Available in the "brite" colors shown above or in pastel and deep colors. Simply Soft yarn. Machine wash and dry. Item DP100 $5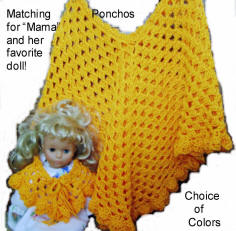 Matching ponchos for you and your girl or for her and her "girl." Made from Simply Soft yarn. Machine wash and dry. Order doll poncho at left. Order child or adult poncho from drop down menus below.
Item CP670 Poncho in sizes 1-3 $15
Item CP671 Poncho sizes 4-8 $18
Item CP 672 Poncho sizes 9-12 $20
Item CP 673 Poncho Youth XL, XXL $24
Item AP675 Poncho adult $32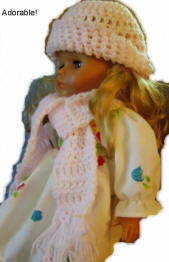 Your 18-20 inch doll will look adorable in this matching hat and scarf set! Available in wide choice of colors in Simply Soft or acrylic worsted weight yarn. Machine wash, dry.
Item DHS100 $5