Cable Design Sweater $87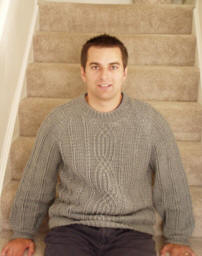 Above: Men's cable design sweater, (also shown on Welcome page), hand-crocheted using Simply Soft yarn. Soft, luxurious, warm! Machine wash gentle, dry low. Do not iron. These sweaters are made when ordered. Select size and color below.
Modeled by Matt! He is not included with the sweater! U. S. Shipped priority mail with delivery confirmation. $10. International shipping $28.00. (See note at top of page.)
Closeup views of the cable design and a few of the colors available.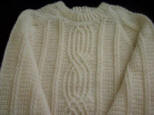 White Softee Hat and Scarf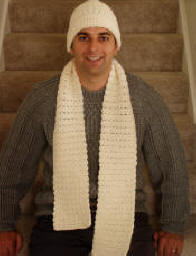 Above: Hat and scarf crocheted using Bernat Softee Chunky yarn. Soft, warm! Both available in white, gray, black, navy, beige. Machine wash gentle,dry low. Do not iron. One size fits most everyone. Modeled again by Matt! U. S. shipping $4.00 for hat or scarf individually. Shipping for set is 5.00. Delivery confirmation included on U.S. shipping. International shipping $8.00 (See note at top of page.)
Men's Softee Hat $14
Men's Softee Scarf $18
Think Lime and Sage! $28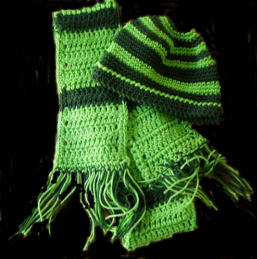 Above: Hand-crocheted, 100% acrylic yarn, machine wash and dry. Do not iron. Beanie style hat is one size fits most all. Scarf is about 72" long and 5" wide with fringed ends. U. S. shipping is $5.00 with delivery confirmation. International shipping is $10.00. (See note at top of page.)
>
Extra Long Men's Cable Design Sweater $115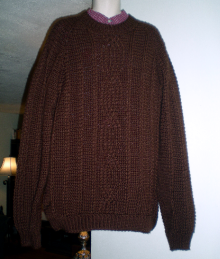 This cable design sweater is a custom order item. It is shown in XL Tall, with the torso 35 inches long, the sleeves 37 inches long, and chest 46 inches. Hand-crocheted using Caron's Simply Soft Chocolate yarn. May be machine washed gentle, dried on low. Must not be ironed. Available in many colors: navy, beige, sage, black, autumn red, country blue, and more. Please contact me for information regarding the color you would like and size requirements. ptodd614@comcast.net Please allow two - three weeks for construction. Orders filled in order received.