Perfect for Easter and Spring. Hand-crocheted using Pitter Patter eyelash yarn. Very, very soft. Machine washable gentle, dry low. Length of poncho from center neck to point is 16". Length from neck down arm is 14".
Fit will depend on the girl's height. To check for fit, measure from just below the hollow of the neck to where you would like the poncho to hang in front.
Item CPP510 $20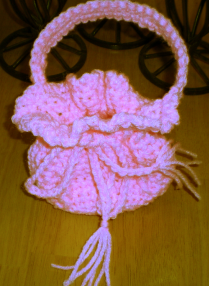 Mini-Bag
This adorable mini-bag is waiting for a home with the little girls in your life. It measures 5 inches wide by 4 inches tall (excluding wrist carrying strap) with a drawstring closure. Perfect for her small treasures! Hand-crocheted from 100% acrylic yarn. Machine wash gentle, dry low.
Item CMB500 $5
This sweet poncho is hand-crocheted using Simply Soft yarn. The pretty pastel colors will look beautiful on your baby girl. The length of the poncho is 6 1/2 inches from center neck to point. The length from neck down over arm is 5 inches. To determine how it will look on your daughter, you need only to measure from the hollow of her neck down her chest to the desired length. It should fit babies 3 - 9 months, depending on their size. The neck opening is 18 inches, and adjusts smaller with the drawstring closure which is then tied into a bow. Machine wash gentle, dry low.

Item BPP520 $20
This hat matches the poncho, and will fit babies 3 - 9 months. The ear flaps give extra warmth. Length of hat from top center to bottom of ear flaps is 8 inches. Circumference at bottom edge of hat is 15 inches, stretching to 18-19 inches. Ties are six inches long. To determine fit for your baby, just measure from top center of head to bottom of ear and circumference of head.

Item BFH520 $5